I had the privilege of being The Walking Classroom's Teacher Feature for the Month of March! My students and I have truly been blessed by this incredible classroom resource!
For more information on the Walking Classroom and how you can apply for this amazing grant, check out
THIS
post.
| | |
| --- | --- |
| | |
This month's newsletter shares ways to get connected to TWC and other fabulous adopters, strategies to help students become better listeners, how to get involved in Every Kid Healthy Week coming up in April.
#GetConnected
It never fails to put a smile on our face every time we see adopters and educators across the country talking about The Walking Classroom on social media. Social media is a great way to stay connected to other educators and a chance to get some great ideas! If you aren't already, be sure to check us out on Facebook, Instagram, Pinterest and Twitter!
Follow us on:
#Shoutout to outstanding edcuators and TWC adopters Stephanie Moorman (@teachinginroom6), Jennifer Williams (@teachingtoinspirein5th), Katie Lyons (@teaching_artofpossibility) and Stephanie Taira (@sktaira) for sharing these fabulous photos!
"The Walking Classroom has been wonderful this year. We have used it in so many ways... in our reading groups, in an after school club for 4th graders to walk and talk after school once a week, and I have also used it as a bonding technique with a student at our school with behavior problems. I take the student individually during my planning and we walk and listen and then talk about the podcasts. He returns to his class more relaxed and ready to learn. His behavior definitely improves when we walk!
Have you ever thought about the fact that we have eyelids but not ear flaps? Our ears are always open and ready to take in information. With new advances in media and technology, literacy extends beyond reading and writing and aural literacy has flourished. Technology has placed an important emphasis on listening as today's students are surrounded by oral language and sound. The bottom line: digital natives listen to learn.
Students spend a large portion of the school day listening -- so how can we capitalize on this and ensure that students are active listeners rather than passive listeners? We teach them!
Active listening can increase your students' overall success because good listeners: follow directions, understand expectations, are better motivated, communicate more clearly, clarify their needs and have higher academic performance.
Active Listening Steps:
1. Make eye contact/Follow speaker
Since they can't actually see the speaker while listening to the podcasts, encourage students to visualize what they are hearing.
Ms. Brandt's class uses a great worksheet created by adopter Stephanie Moorman, to help them record the main idea, their new learning, and visualize what they were hearing! Click here for a copy!
2. Summarize what the speaker is saying
Try and leave time after the walks so that once students finish listening they can partner up with other students and share their learning. Ask students to summarize what they have learned and maybe share a fact they didn't know before.
Ms. Coles' students group up to discuss what they just heard.
3. Make connections by linking what you hear to what you already know
Help students make connections by activating their background knowledge using the provided vocabulary and podcast preview sections of the lesson plans.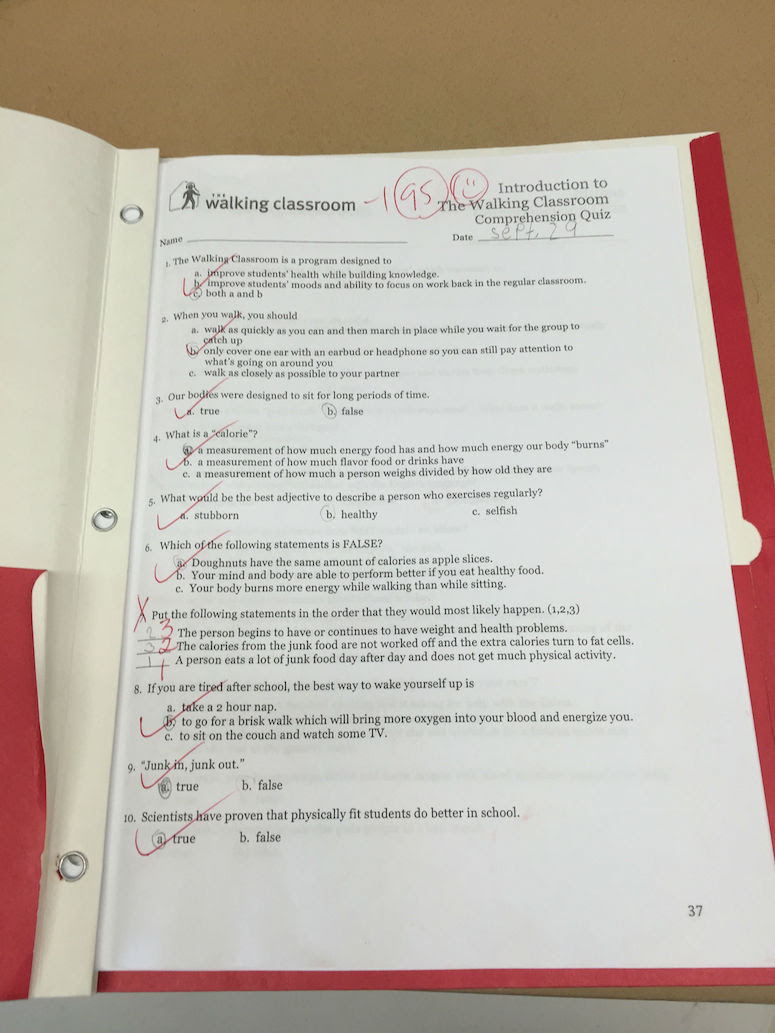 Ms. Collazo's student aces a comprehension quiz!
4. Ask and answer questions to check that you are understanding what you are hearing
The discussion questions and comprehension quiz provide a quick and
easy opportunity to ensure your students have grasped the big ideas of the podcast. Additionally, listening to the same podcast more than once will really help solidify the main idea.
Ms. Henderson's class continues to enjoy the fresh air will checking their understanding of the podcast.
There are so many opportunities to practice these steps throughout the school day and the active listening skills that your students will develop as a result will be valuable to them throughout their education. The more they practice it, the more automatic it will become!
Get in the Action!
This year Every Kid Healthy Week is

April 19 - 25

and it's just around the corner! This week brings awareness to the prevalence of obesity and its impact on American youth around the country, as well as celebrating schools that are working hard to improve the health and wellness of their students. They encourage everyone to get involved, celebrate and support sound nutrition, regular physical activity and health-promoting school programs.
You can get involved by hosting an event at your school!
-Host a healthy foods taste test with fruits, vegetables, and more!
-Invite a local gym or fitness trainer to lead a class
-
Plant a school garden or liven up one that already exists
-Invite parents and students to walk together in a school walk-a-thon
There's still time to plan an event!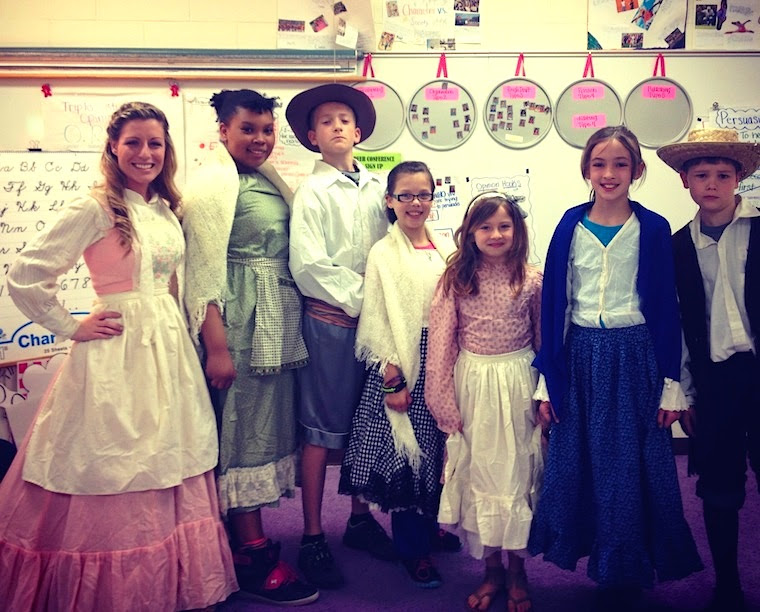 Hoppin Elementary
Three Rivers, Michigan
A quick glance at Brittany's blog "The Art of Learning" will give you an idea of just what an incredible teacher she is. It's clear she goes above and beyond to engage her students and to make learning meaningful -- just look at the picture above! She incorporates The Walking Classroom into her teaching to reinforce what she is teaching and graciously shares her ideas with others. We are grateful there are such dedicated educators, like Brittany, working hard everyday to ensure their students succeed!
Where were you born, and where did you grow up?
I was born and raised in Mount Vernon, Ohio, however, my family is originally from Michigan so I returned as soon as I could and have now lived in this great state for eleven years.
How long have you been teaching and why did you decide to become a teacher?
I have been teaching for five years. I have always been a part of an education world. I am a third generation teacher and grew up immersed in lesson planning, curriculum, and, of course, long family summer vacations. My mother is a high school English teacher and my father, a high school history teacher and I knew at a very early age that I wanted to follow in their footsteps, much to the chagrin of my little sister whom I "taught" with teddy bears in the basement.
When have you been your "best self" as a teacher?
I feel that I am "the best" teacher when my students are engaged in content and creating projects without my assistance -- when I am truly a facilitator. It is such a rewarding feeling to watch a classroom of students eager and focused, digging deeper in their learning independently. When I am able to provide a foundation where students can use their OWN knowledge and information to analyze, evaluate, and create, I feel like I am on top of the world!
As a teacher, for what are you most grateful?
I am most grateful for the professional learning community I work in. My fellow teachers and partner fifth grade teacher, maintain the same moral/family values, they care deeply about all of "our" kids, and they are eager to learn, listen, and community and I know that it has made me a better teacher!
What are some educational resources that you utilize to help cover the curriculum?
Obviously, Teacher Pay Teacher, a myriad of AMAZING classroom blogs, Teachertube, I LOVE using manipulatives to teach (especially in social studies) so I utilize a LOT of stuff form Good Will/garage sales/flee markets to help bring the content to life! The Walking Classroom, Pinterest, and so many more!
Please describe an experience that you and/or your students have had with The Walking Classroom.
I use The Walking Classroom to help me integrate and solidify my student learning. I teach reading, writing and social studies for fifth grade and blend these three subjects as much as possible to allow for cross-curricular connections. The Walking Classroom helps me do this and is so easy to tie into their learning. While learning about the different explorers, for example, we researched the different technological advances which aided in exploration. During one of our podcasts, they discussed these as well. So after our walk, we went inside and created "astrolabes/quadrants" then we bundled back up and tested them out finding the distance of objects outside. I absolutely LOVE when The Walking Classroom reiterates what we are learning in the classroom and gets the kids even more pumped about the information. It is like they are thinking "Whoa, Mrs. Bermingham must know what she is talking about because we just heard it from the kids over at The Walking Classroom!" and they take the content so much more seriously! HA!